Year after year, car manufacturers give their vehicles a subtle facelift. This year is certainly different for the Volkswagen Jetta. This year, a whole new Jetta is born!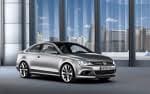 On June 15th, Volkswagen unveiled their completely overhauled 2011 Jetta on LIVE with Regis and Kelly in Times Square, NY. VW's precision German engineering was accurately reflected in this debut. The Jetta's elegant exterior was accentuated by muscular and dynamic styling while the interior gave off a sense of luxury with its best in class rear legroom and ergonomic placement of the cockpit's components.
Stefan Jacoby, CEO of VW Group of America, summed it best; The all-new 2011 Jetta is "a class-up driving experience with the kind of styling, design and power under the hood normally found in more expensive luxury cars. At an extremely attractive price, this car is sophisticated, fun to drive and practical".
The
2011 Jetta
will be available for retail sale in October of this year and will have a starting price point of only $16,000. Stay tuned for an update on the arrival of the
new Jetta
at
Tom Wood Volkswagen
.