Engineers for Volkswagen have been working on a new feature that is being billed as a Temporary Auto Pilot. Monitored by the driver, the car can drive semi-automatically up to a speed of 80 miles per hour. It represents a link between today's various assistance systems and the future of fully automatic driving.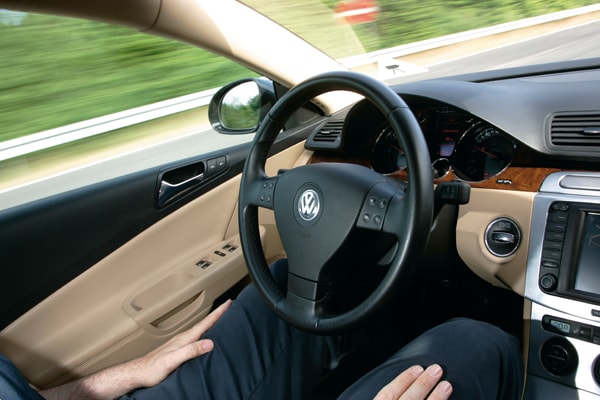 The Temporary Auto Pilot combines functions monitored by the driver with other driver assistance systems, such as adaptive cruise control and the Lane Assist system, into one comprehensive function. However, the driver is always in control. The driver can override or deactivate the system at any time and must continually monitor it.
The system is intended to prevent accidents due to lack of attention by a distracted driver. It maintains a safe distance behind the vehicle ahead, drives at a speed chosen by the driver, reduces this speed as necessary before a turn, and maintains the vehicle's position in the lane. The system also observes passing rules and speed limits. Stop and go driving during a traffic jam is also automated. Of course, this system is not a replacement for an attentive driver; drivers must still continually focus their attention on the road so that they can intervene in safety-critical situations if necessary.
While the Temporary Auto Pilot system is still a prototype and will not make it to dealerships for quite a while, Volkswagen still has many vehicles with all the bells and whistles out now.

To take a look at our new VW inventory, click here.