Looking for a vehicle with major offroad chops, but don't want an SUV? Volkswagen might have just the thing for you! Debuting at the New York International Auto Show is the Volkswagen Alltrack Concept. This car closes the gap between passenger car and SUV. With chunky bumpers and flared side skirts, as well as a raised ride height, the Alltrack shows that it's as comfortable off the beaten path as it is in the city.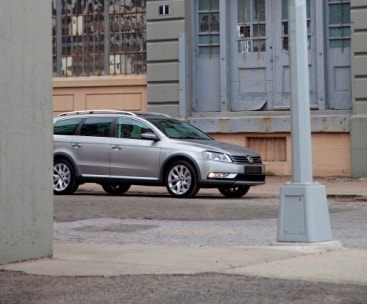 To illustrate how serious the Alltrack can be in an offroad environment, the engine is protected by a solid underbody guard made of steel plate. This helps protect the engine, gearbox, oil pan, exhaust system and various hoses from damage, and there's another underbody shield at the rear of the car. Other exterior changes include matte chrome window surrounds, door mirror housings and radiator grille trim strips. Anodized silver roof rails are standard, along with front foglights and dual chrome tailpipes.
The Alltrack concept on display in New York features Volkswagen's frugal 2.0-liter turbocharged TDI Clean Diesel engine with a six-speed DSG dual-clutch automatic transmission. It also features 4Motion all-wheel-drive, with an offroad driving program that tunes key vehicle dynamic and assistance systems for offroad driving at speeds of up to 18 mph at the press of a button.
A Hill Descent Assist program is automatically activated when the gradient exceeds 10 percent; the system applies the Alltrack's brakes. Meanwhile, features such as the optional adaptive cruise control are deactivated.
In offroad mode, the throttle map is altered to give a "longer" pedal to more accurately meter engine power. At the same time, gearshift points are raised, automatically giving the driver higher engine revs and therefore more power to work with. If the DSG lever is switched to the manual shift gate, the transmission no longer upshifts automatically. Adding to its offroading credentials, the Alltrack's ground clearance is raised by1.2 inches compared with a non-Alltrack model.

There is no word yet as to whether this versatile car/wagon/SUV will be produced for the US, but if it looks like something that might be for you, be sure to let Volkswagen know! In the meantime, take a look at all of the new and used Volkswagen cars and SUVs that Tom Wood Volkswagen in Indianapolis has available!