Tom Wood Automotive is continuing its Tom Wood Goes Green initiative by participating in an exciting new program spearheaded by Simon Property Group, 350Green, Energy Systems Network, Duke Energy, and the City of Noblesville. Tom Wood Automotive President Jeff Wood, along with other project partners, was on hand Thursday morning to unveil three new electric vehicle charging stations at Hamilton Town Center.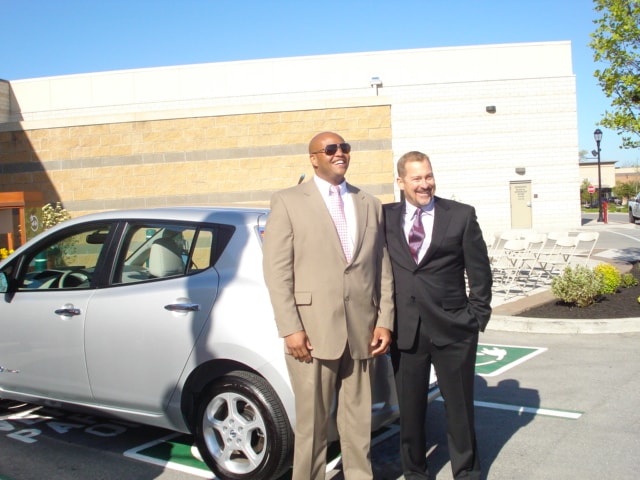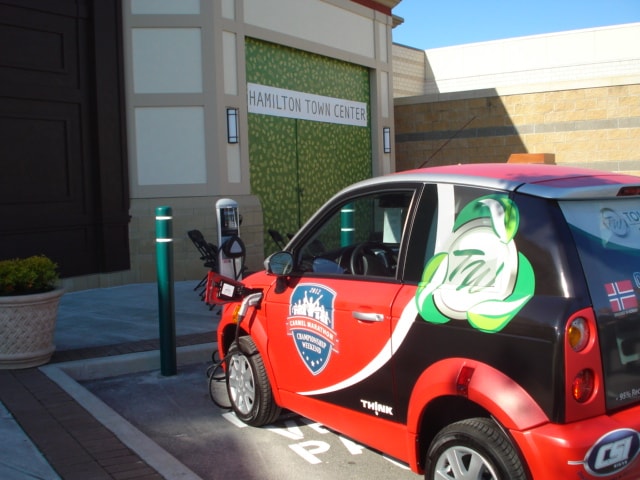 Prior to the ribbon-cutting ceremony, Jeff Wood spoke to the crowd about how important electric vehicles are to Tom Wood Automotive and how proud he is to have both the Nissan LEAF and the all-electric Think as part of the Tom Wood group. He mentioned that he drove an electric vehicle to work every day, and that he looks forward to there being more of them on the road in the future. Tom Wood Nissan General Manager Brian Dobbins was on hand for the unveiling, as were Stephanie Langas and Richard Steiner representing Tom Wood Think.

The new electric vehicle charging stations are located in the front parking lot, right next to Mo's Irish Pub, and offer Level 2 (220v) charging. These EV charging stations are good for the customer because they offer priority parking, along with the ability to have dinner and do some shopping while their vehicle recharges. With this addition, Hamilton Town Center will become one of the first retail properties in Central Indiana to offer electric vehicle charging stations.

Electric vehicle charging stations are currently available downtown, at the airport, and at many Tom Wood Automotive dealerships. As more and more charging stations appear around Indianapolis, buying an electric vehicle makes more and more sense. Visit Tom Wood Nissan for more information on the 100% emission-free Nissan LEAF, and visit Tom Wood Think to learn about these unique vehicles.

To view the entire event photo album via the Tom Wood Automotive Facebook page, click here.