The all-new Ford Focus Electric is coming, and Ford couldn't be more excited about it! Ford is looking to share the excitement with you via various interactive events taking place now. First up is the Focus Electric's cross country journey with Men's Health magazine!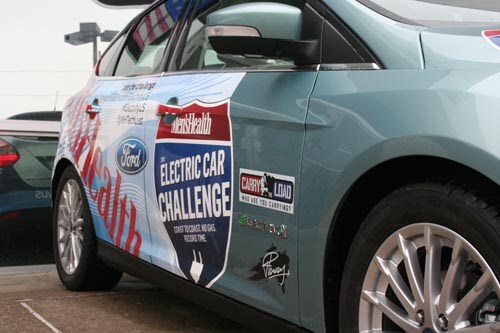 The Men's Health 2012 Electric Car Challenge made a stop on Saturday at Tom Wood Ford in Indianapolis. Men's Health magazine hit the road last week in the hopes of setting a land speed record for driving an electric car from coast to coast. The car is, of course, the 2012 Ford Focus Electric. It seats 5 and recently earned a 110 mile-per-gallon equivalent (MPGe) rating from the EPA for city driving.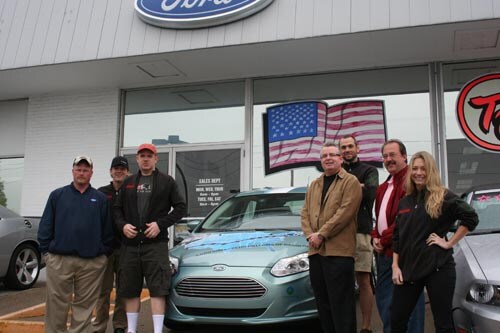 Since this is a long road trip, frequent stops need to be made to recharge the Focus. That's where Tom Wood Ford came in! The drivers, including Tanner Foust from Top Gear USA and IndyCar driver Martin Plowman, showed off the Focus Electric, met the crowd, got their support truck fixed (pretty lucky that happened while they were at a Ford dealer!), and found out about Tom Wood Automotive and the various electric and hybrid vehicles our group has available. On top of that, they raised a little bit of money for the official trip charity- Carry the Load, which supports the families of soldiers killed in combat. The trip kicked off from the New York International Auto Show on April 11 and hopes to arrive in Los Angeles by Earth Day, Sunday April 22. Follow their journey at http://www.menshealth.com/techlust/electric-car-challenge, and read the blog about their stop in Indy here.
Visit Tom Wood Ford for more information on the 2012 Focus Electric and all the other green, and green used cars they have available! The full album of photos are available to view via the Tom Wood Automotive Facebook page here.