Honda has signed a five-year contract to once again be the Official Vehicle Sponsor of Little League Baseball and Softball through the year 2013. Honda is entering its 17th year as a sponsor, and they are offering the chance to win a family trip to the Little League World Series with the Going Going Gone Giveaway.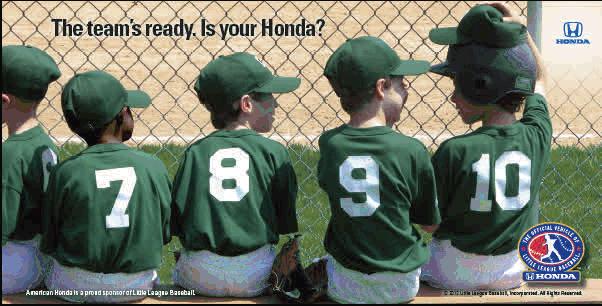 Little League Baseball and Softball is a nonprofit organization dedicated to assisting youth to develop qualities of citizenship, discipline, teamwork and physical well-being. There are now more than 7,400 Little League Baseball and Softball leagues in nearly 75 countries around the globe.
Since 2001, Honda also has been a proud sponsor of the Little League Urban Initiative, which aids approximately 43,000 Little Leaguers. The goal of the Urban Initiative is to provide those with the dream, but without the resources, the opportunity to play Little League in urban communities and neighborhoods around the country. Honda's financial contributions have helped the Urban Initiative grow from leagues located in Los Angeles and Harlem to more than 200 leagues in 85 cities nationwide.
Famous Little League World Series alums include MLB players Jason Varitek, Gary Sheffield, and Derek Bell and NFL Quarterback Matt Cassel.
Visit
Tom Wood Honda
in Anderson for all of your new and used Honda needs!