U.S. Ski Team athlete Andrew Weibrecht is now the proud driver of an all-new 2015 Audi A3, due in part to his against-the-odds silver medal win on the international stage in the men's super G event last month.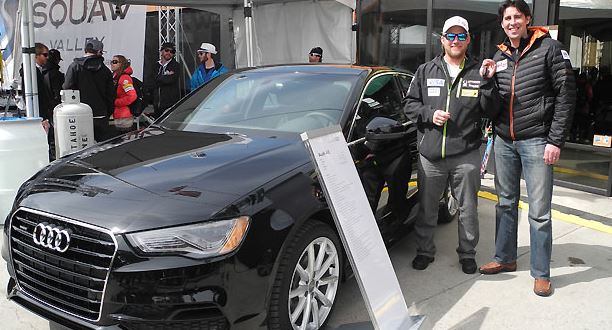 It was a long way back to the top for Weibrecht. After bringing home a bronze medal in 2010, he injured his right shoulder and left ankle during an Audi FIS Alpine World Cup race and spent about two months in a cast. This was followed by even more misfortune – four serious injuries over the course of just three years.

Weibrecht wasn't sure if he would ever get back to the highest level of international competition. Still, he re-dedicated himself to returning to the top, moving to the Team's Center of Excellence to further his training. His refusal to compromise drove him to qualify – just barely – for the 2014 team.

What came next was even more surprising. Weibrecht shocked everyone, starting well after the leaders and mounting an aggressive super G run, nabbing the silver medal only three-tenths of a second behind the winner. After the race, Weibrecht told his father that he'd like to use his winnings to purchase a new car. Audi is proud to deliver on that dream by awarding Weibrecht an all-new 2015 A3 sedan – a vehicle that truly encapsulates his competitive and uncompromised spirit. Weibrecht will be loaned the A3 for one year as part of Audi's sponsorship of the U.S. Ski Team.

"When we first heard Andrew's story, we were so impressed by his unwillingness to be intimidated or compromise in the face of a challenge that we felt the need to act quickly and reward him for his accomplishments," said Loren Angelo, Director of Marketing, Audi of America. "We are proud to award Andrew an all-new A3 – a car that never compromises on the high level of luxury and technical features Audi is known for – and continue to build our company's relationship with the U.S. Ski Team."

Weibrecht was given the keys to the new A3 during a special ceremony at the Nature Valley U.S. Alpine Championships in Squaw Valley, California.

The all-new Audi A3 lineup begins with the A3 sedan, which is now available at Tom Wood Audi in Indianapolis. The A3 sedan plays a pivotal role in the soon to be expanding Audi A3 family and will be priced from a base MSRP of $29,900. It will be joined later in the fall of 2014 by the Audi A3 Cabriolet, A3 TDI clean diesel sedan, the high-performance S3 sedan and in early 2015, the A3 Sportback e-tron gasoline electric plug-in hybrid (PHEV).