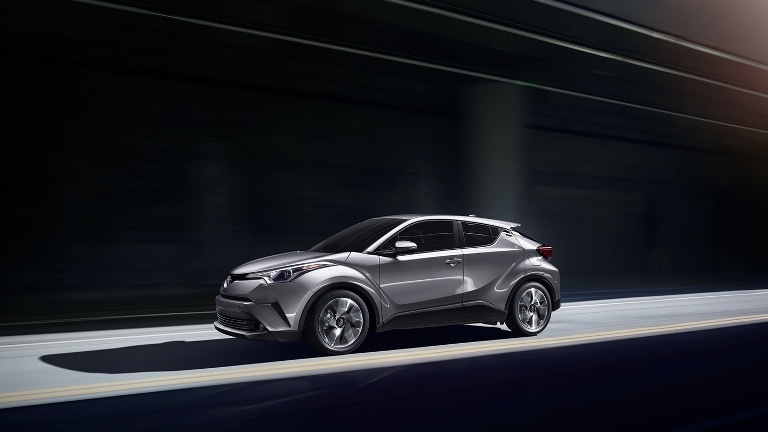 Whenever you're looking for cars for sale, we encourage you to look through our inventory of the latest Toyota vehicles online. As you'll see, we represent some of the most respected automakers in the world, including the Toyota brand. As Toyota car dealers, we have the honor of offering drivers the chance to buy or lease a 2018 Toyota C-HR.
The all-new Toyota C-HR is a hatchback that, quite simply, is a ton of fun to drive. The experience you'll enjoy when you get behind the wheel of this versatile vehicle will never get old no matter how often you drive your Toyota C-HR. The look of the new Toyota C-HR is as exciting as the car's performance and handling. Unlike any other Toyota automobile, the 2018 Toyota C-HR has bold styling that can accurately be described as "futuristic" and "flamboyant."
The all-new Toyota C-HR comes in two trims, the XLE and the XLE Premium. Neither trim is eligible for stand-alone factory options, but that's okay, because both models are very well equipped.
The base trim comes with automatic headlights and high beams, a rear spoiler, a rearview camera, a driver information display, a seven-inch touchscreen, Bluetooth connectivity, HD radio, and a USB port. This model also has adaptive cruise control, a forward collision warning that has automatic emergency braking, and a lane departure and mitigation system. The top trim adds foglights, keyless entry and ignition, heated front seats, and a blind spot monitor that has a rear cross-traffic alert.
If you want to learn more about the 2018 Toyota C-HR, contact Tom Wood Automotive. If you're ready to take a 2018 Toyota C-HR for a test drive, visit the Toyota dealership that's part of our Indianapolis, IN automotive group. We look forward to seeing you in an all-new Toyota C-HR soon!